By George Bate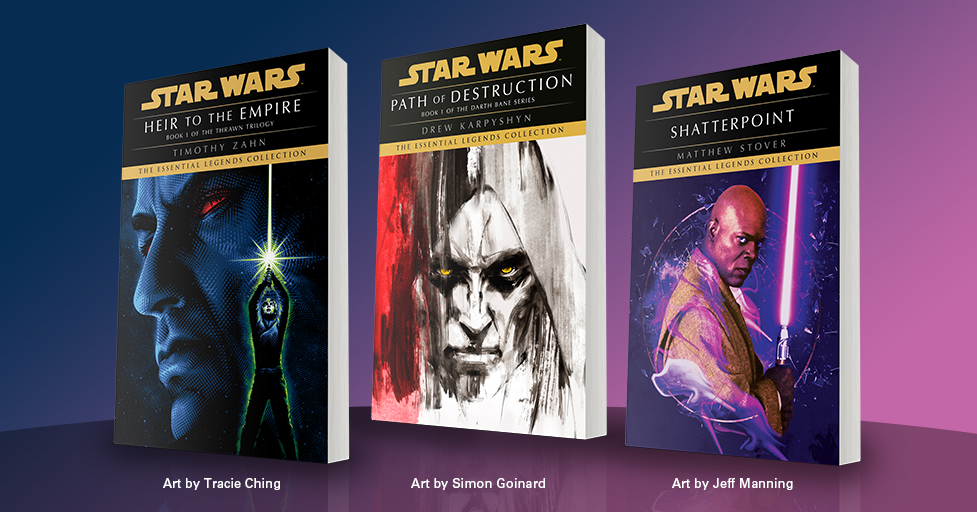 Del Rey announced today that, in celebration of Lucasfilm's 50th anniversary, a collection of essential and beloved Legends novels will launch in unique, new formats later this year. The collection, which launches on June 15, 2021, will feature new trade paperback editions of Heir to the Empire by Timothy Zahn, Darth Bane: Path of Destruction by Drew Karpyshyn, and Shatterpoint by Matthew Stover. Each release will sport fantastic original cover art, with Tracie Ching, Simon Goinard, and Jeff Manning behind the new book covers. The old/new content won't stop there, though, as Del Rey will continue to add classic titles to their Essential Legends Collection throughout the rest of 2021.
Legends holds a special place in the hearts of Star Wars fans. The first Legends, or Expanded Universe, novel was Alan Dean Foster's Splinter of the Mind's Eye. Ever since then, Legends was an avenue to expand the Star Wars universe in new, creative ways through novels, comics, video games, and more. While Legends' place in canon always remained ambiguous, Disney's acquisition of Lucasfilm saw a rebranding of canon content outside of the theatrical films. Nonetheless, Legends continues to leave a footprint on modern canon. Projects like Star Wars: The Rise of Skywalker and The Mandalorian, for instance, have leaned into core elements and plot threads from Legends projects.
The three Legends novels to kick off Del Rey's Essential Legends Collection are some of the most beloved works in the Expanded Universe. Timothy Zahn's Heir to the Empire was the groundbreaking debut of Grand Admiral Thrawn in a story set 9 years after the Battle of Endor and the 'fall' of the Empire. The Clone Wars, Rebels, and The Mandalorian executive producer Dave Filoni once said of Zahn's novel, ""You couldn't have grown up a Star Wars fan without encountering Thrawn in Heir to the Empire. It was a dark time when there weren't any more movies, and it blew our minds that there could be more." Indeed, Heir to the Empire was a brilliant reintroduction to the Star Wars universe after so many years without a film. With Thrawn appearing in Star Wars Rebel and being name-dropped in The Mandalorian, fans are speculating the upcoming Disney+ crossover event teased by Kathleen Kennedy will delve into territory explored in Heir to the Empire.
Also on the horizon is Drew Karpyshyn's Darth Bane: Path of Destruction. Darth Bane is easily one of Legends' most infamous characters, yet he has only appeared briefly in an episode of The Clone Wars. Karpyshyn's novel is a fantastic entry point to the villainous Sith Lord as we see the power of the dark side of the Force 1000 years before the Battle of Yavin.
And, finally, Shatterpoint by Matthew Stover hits bookshelves in a new format later this year. Shatterpoint was originally released in 2003 and marked the first novel in the Clone Wars multimedia project at the time. The story follows Mace Windu, following the Battle of Geonosis, on a journey to rescue his former padawan Depa Billaba. Star Wars fans will also be treated to a new audiobook edition of Shatterpoint, narrated by Sullivan Jones.
Stay tuned to Star Wars Holocron for more news on Del Rey's Essential Legends Collection.
Book cover art by Tracie Ching, Simon Goinard, and Jeff Manning
Images courtesy of Del Rey