By George Bate & Josh Reilly B.
A24 and Alex Garland (Annihilation, Ex Machina) have teamed up to deliver one of the more disturbing, relevant, and abstract horror films of recent years. Men stars Jessie Buckley as a young woman named Harper, whose life takes a dark turn for the worse when her husband commits suicide. To heal from this trauma, Harper retreats to an isolated cottage in the beautiful English countryside. But, it's not long after her arrival that a series of disturbing events occur all involving people with the same face (played by Rory Kinnear). 
Alex Garland's Men is extremely Lynchian in the sense that it is a film that aggressively subverts providing the audience with answers to the myriad of tangible and metaphysical questions it poses. That's a long winded way of saying: nothing is spoon fed to the viewer and everything is left up to interpretation. As such, this is merely one interpretation of Men, an interpretation that is likely to differ amongst viewers.
Unlike many horror films, the terror in Men populates the very first frames of the film. It's not long after the A24 logo comes and goes that Harper's husband is seen dropping from a balcony in slow-motion, plummeting toward a certain death. Already, the audience is left with an uncomfortable feeling. This horror at the beginning is not 'horror' in the sense of a creepy monster or jump scare, but, rather a very real, disturbing horror that gets under your skin from the get-go. 
Cue Leslie Duncan's "Love Song" as Harper journeys to the countryside in her blue Ford Fiesta.
It's here that Harper meets the first man played by Rory Kinnear, the owner of the grand house she rents named Geoffrey. Geoffrey is a bit awkward and perhaps pries a bit too much, but is amiable nonetheless. Indeed, Geoffrey is one of the film's few points of humor as he delivers a number of quick witted lines that could easily go over your head.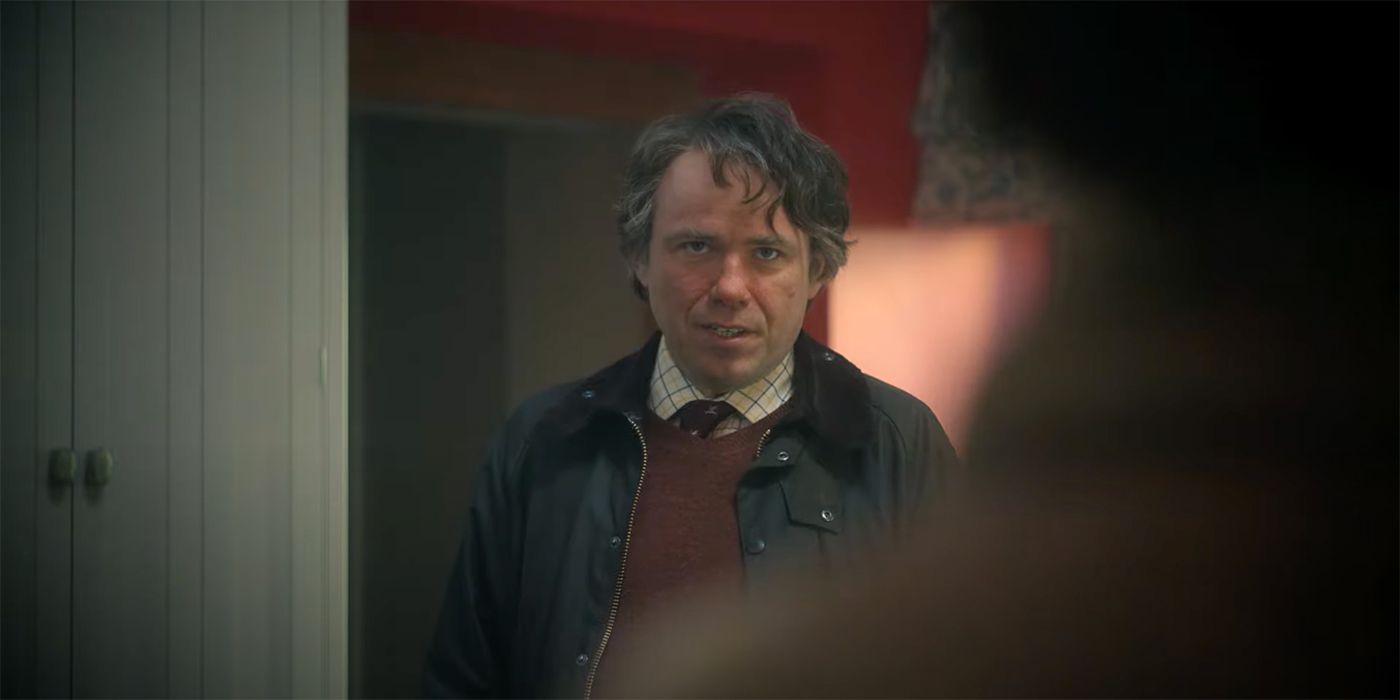 As Harper settles into her vacation home, she Facetimes with her friend, only to see a glitched, blurry face of a screaming man briefly on her phone. Dismissing this unusual occurrence, she takes a long, scenic walk in the English countryside, a beautifully shot sequence by Garland. After an ominous sequence involving an exploration of the echoes of a dark tunnel, Harper is startled to see a silhouette at the end of the tunnel that begins to approach her quickly.
Harper runs away, unnerved by the situation, and heads back to the house. Unknown to her, a strikingly unclothed and seemingly wounded man watches her from afar and follows her back to her property. In a tense sequence, Harper speaks with her friend on FaceTime for quite a bit before realizing that the man is looking through her window. And, after a few suspenseful minutes, the police arrive and take the man away. 
At this point, the audience has been introduced to three men with the same face: Geoffrey, the policeman who arrived on the scene named Jimmy, and the naked man. Harper is unsettled by the situation, but decides to persist with her healing trip away. She makes a trip to a local church where she mourns for the loss of her husband James. She encounters a strange and rude 9-year-old boy named Samuel (who also has Kinnear's face), who asks her to play a game of tag.
Harper sits down next to a vicar (also sporting Kinnear's face). At first, the vicar is gentle and caring, but eventually turns threatening and emotionally violent. His disconcerting personality comes through as he seems to blame Harper for the suicide of her husband.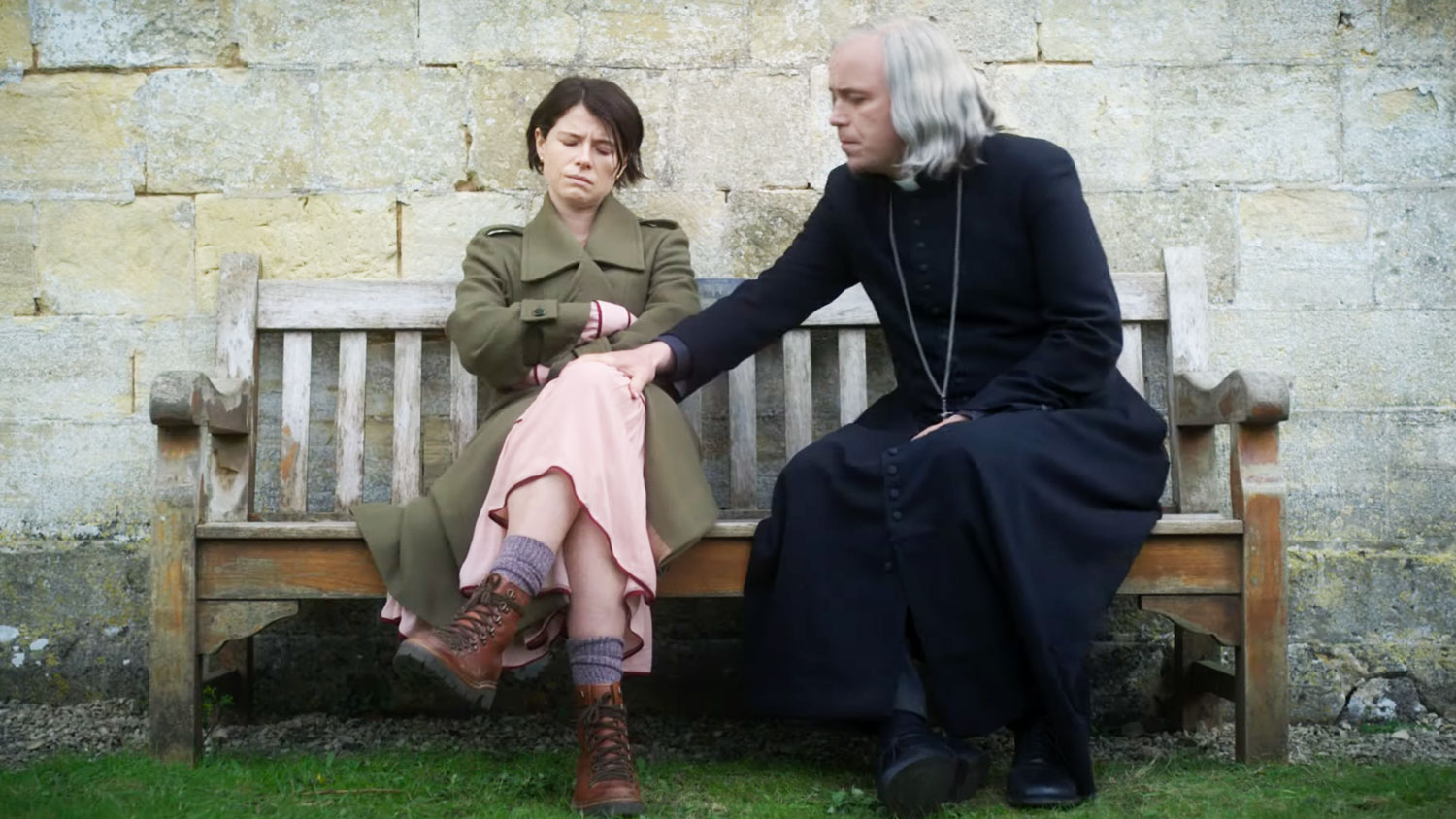 Disturbed beyond belief at this point, and scarred by a series of flashbacks to her husband's threats of suicide that preluded his jumping off the balcony, Harper retreats to a local pub where she encounters the bumbling Geoffrey again. Also here are two farmhands, the pub landlord Franklin, and the policeman Jimmy, all of whom are played by Rory Kinnear. It is here that Harper's concerns about the naked man are dismissed as paranoia and it is revealed that the naked man has been let go by the police. Fed up with everything and concluding that this trip has been everything but healing, Harper leaves the pub and returns to the home. From this point on, things get worse…
Harper video chats with her friend from earlier in the film, who demands that she be able to accompany her friend here and make the most of the vacation. Harper finally succumbs and tries to give her friend the address, only for the connection to be repeatedly interrupted whenever the location is about to be detailed. After hanging up, Harper receives a threatening text that proves to be the least threatening thing that happens on this evening.
From here on out, Men becomes what can be best described as the wildest home invasion movie of all time. Motion lights start flickering outside only to reveal a silent Jimmy the policeman standing ominously in the darkness of the garden. Jimmy is unresponsive to prompts and eventually disappears entirely.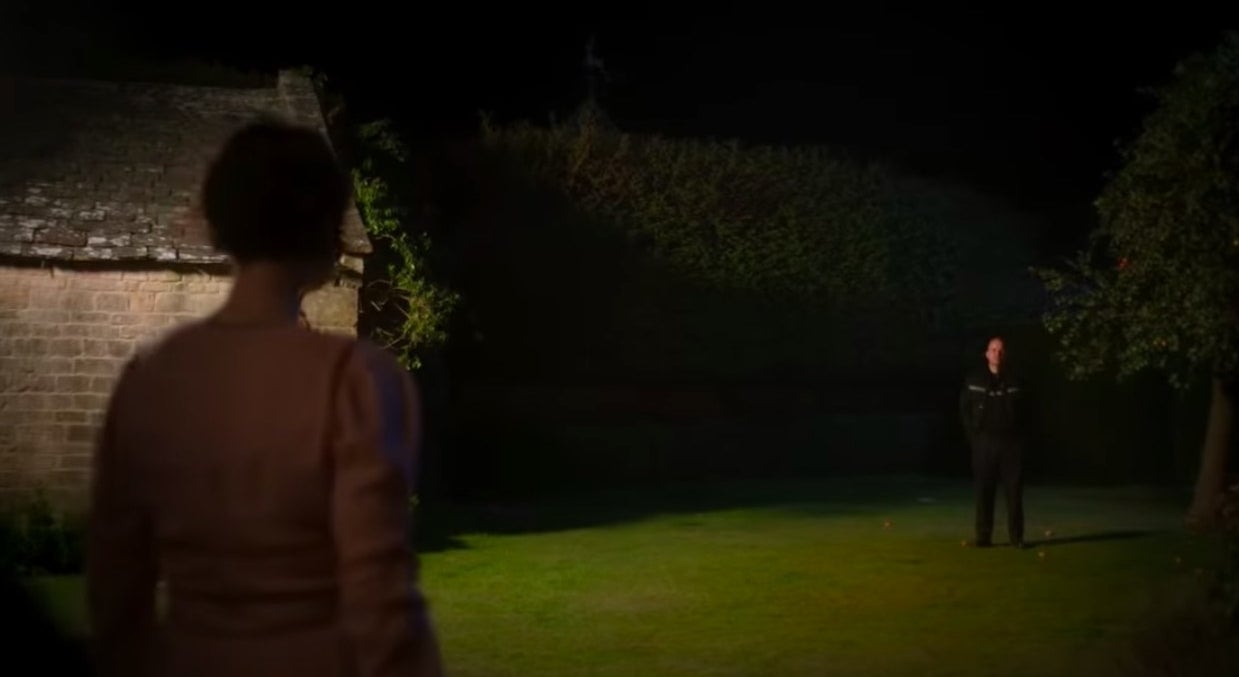 Shortly after, one of the farmhand brothers sprints toward her front door and an injured crow is thrown through the kitchen window. Coming to the rescue (potentially?) is Geoffrey, who shows up in typical charming and bumbling fashion. Geoffrey is somewhat dismissive of Harper's complaints, but eventually takes them seriously enough to go in the garden and investigate. However, it's not long after he goes outside that he too disappears.
Eventually, the bald man reappears, sticking his arm through the mail box. In, by far, the film's most gruesome scene, Harper stabs the bald man in the forearm with a steak knife. The bald man does not jump in shock, but, rather, slowly retreats his arm out of the mailbox. In doing so, the knife runs down the length of his forearm, severing the bottom half of his arm in two.
After this, a series of men played by Rory Kinnear try to break into the house, while a terrified Harper resists. Of note, all of the men sport the same arm injury as the bald man now. 
The vicar eventually breaches the house and continues his emotionally violent dialogue with Harper. He talks about the ways in which she has tempted him sexually and speaks in poetry and riddles before trying to rape her. Harper manages to escape, pushing the vicar off of her. The vicar hits his head on the ground and Harper flees the house.
Harper jumps in her Ford Fiesta and drives away, only to suddenly hit Geoffrey! Harper gets out of the car only to be met by a more menacing Geoffrey, who pushes her out of the car, takes it for himself, and drives away. After a brief moment of solitude, standing in confusion, the car returns trying to run her down. Harper flees back toward the house perimeters, where the car crashes. 
Stumbling out of the car is another version of Rory Kinnear with the arm injury and a broken ankle (injuries that are identical to those of Harper's deceased husband). Unlike before, Harper does not fight or flee, but stands in careful and calculated observation of what's happening before her. The bald man has evolved into The Green Man, a vile figure covered in leaves from head to toe.
This version of Rory Kinnear stumbles, his stomach swells, and gives birth to another version of Rory Kinnear in a gruesome scene. Harper walks backward toward the house, only to be followed by this new spawn. Several moments later, this spawn gives birth to another version of Rory Kinnear, a disturbing and visceral sequence that repeats several times until, eventually, a version of Rory Kinnear's character gives birth to a bloodied James, Harper's husband. James sits on the couch in the house's living room and Harper takes a seat next to him.
The next day, Harper's friend arrives and sees Harper sitting on the outside steps with a steak knife. Harper looks up at her friend, smiles, and the film cuts to black, bookended by Elton John's acoustic cover of Duncan's classic "Love Song."
So, what the hell does this all mean?
Alex Garland fills Men with imagery that evokes reproduction. There's the more overt tunnel sequence, but also corridors, seeds, slots, and echoes as well. Inside the church, there is also a figurative carving known as the sheela-na-gig, which is a stone depicting a naked, squatting woman gesturing to an exposed vulva. The meaning of this imagery is unclear. Art historians have theorized that the sheela-na-gig was designed to deter men's lust for women and to honor female fertility. Director and writer Alex Garland had this to say about the symbolism of the sheela-na-gig: "We know these symbols are ancient, that they're powerful and that they have an effect on us, but we don't really know what they mean, and it's hard to discern what is mythology and what is not. That made them perfect for the film. One  of the things I like about the sheela-na-gig is the unblinking straightforwardness of it. People react to it in different ways but for me, it has a way of holding your gaze and the film tries to do that, too. The sheela-na-gig survived through centuries of enormous repression of anything that even looked like sexual imagery. Even as the Victorians were busy covering all the genitalia in classical art, inside a church you'd still find these carvings that to our eyes are a brazen, confrontational image of sexuality. Or is it sexuality? Is it reproduction? Or [is] it just a statement of fact? And how have our ideas of these things changed? These questions fold into the narrative."
Garland's explanation undoubtedly poses more questions than answers, although it is clear that reproduction and sexuality are central themes of the film. Key to these themes is the bald man, who eventually morphs into the Green Man. The imagery of the Green Man evokes Christian and pagan symbolism. He appears to be a folkloric creature, a nonverbal and threatening creature with tree-like features. Interpretation of the Green Man is also subject to debate. Buckley, who played Harper, stated regarding the character, "I see the Green Man as a kind of archetypal fallen man, the base level of man. He's primal nature, he's of the earth, he's life and death basically. He's lived for thousands of years, and he contains all the elements that are difficult, and all the wounds, of men and manhood. But he also contains the potential of life." Meanwhile, Rory Kinnear believes that the Green Man "is a figure that changes and develops throughout the film, seemingly both haunting Harper and looking out for her. We're never sure if he's there to protect or to torment. But he seems to me to hint at the rebirth people need after grief. He's one of the primal forces we're always working with, that are found in deep history, but are still with us today."
This "primal" element of the Green Man is especially relevant when theorizing about Kinnear's other characters. Kinnear plays an array of men, who, despite their stark differences in appearance and personality, share a core common feature: their mistreatment of Harper. Each man mistreats and abuses Harper in different, yet similarly insidious ways. The young boy Samuel represents the childlike rudeness toward women. The vicar, meanwhile, is reflective of an emotional and sexual violence, a manipulative sequence of behaviors that eventually culminate in an attempted rape. The policeman Jimmy brands Harper, the leading woman of our story, as paranoid for (justifiably) feeling threatened by the bald man. Geoffrey, on the other hand, symbolizes a form of benevolent sexism, an almost infantilizing belief that women are pure creatures who ought to be protected and supported. Finally, the Green Man is the personification of man's perceived "primal nature," as described by Buckley – a nonverbal, base character, scarred with wounds from men to toe that stalks and haunts Harper.
The film's final acts furthers this theme of reproduction and male oppression. Men concludes almost exclusively in the house, a popular trope in horror cinema from The Haunting to Halloween. "The house is as much a character as any in the film," described Buckley. Garland even spoke about location seeking for the house as "a bit of casting…The feeling was the same as when an actor walks into the room, and you immediately think 'that's the right person.'" The house has a beautiful, lushish, Garden of Eden-esque exterior. Inside, the house is beautiful, but in a different manner. The walls are painted in an alarming red, reminiscent of a wound or even the womb. The proceeding home invasion may be representative of the different ways in which men force themselves upon or into women without consent. Harper is resilient and strong as she tries to defend herself and block entry into the home, whereas the men do whatever they can to enter.
All of this culminates in the series of regenerations that are nothing short of visually striking and disturbing. It's unprecedented imagery to say the least – one man giving birth to another man, who, moments later, gives birth to another man in a seemingly never-ending cycle. This climax is startling and something Garland realizes is up for interpretation. Nonetheless, it is clear that Garland is evoking the horrors of reproduction here. The writer and director reflected, "I find it interesting that some of the things that seem to make people most uncomfortable in the film are not the things rooted in horror films but those rooted specifically in birth. Yet, everybody on the planet arrived this way."
The film's title, series of male characters sharing the same face, and concluding act with the invasion of a home and a number of male labors all come together in a (possibly) cohesive interpretation of Garland's motion picture. At its core, Men is about the enduring maltreatment of women perpetrated by men that, despite taking on different forms and shapes over time, is nonetheless destructive and violent. The colloquial saying that "All men are the same" comes to mind here as all of the men in the film, with the exception of Harper's husband James, have the same face. Deep down, the men are all the same – abusive, manipulative, violent – even if their methodology varies. Harper wounds one version of the man in the film and, afterwards, all of the men bear the identical wound. It's hard here not to think about toxic masculine posts online about the hatred some men hold for women in saying that they are all evil and always hurt men. And, in the end, this cycle perpetuates. The series of rebirths reflects how enduring and long-lasting this pattern of abuse is: abusive men give rise to abusive men who give rise to abusive men. Regardless of whether this takes the shame of hostility, dismissiveness, benevolent sexism, or sexual violence, the abuse persists.
Interestingly, the final rebirth manifests as James, Harper's husband. The injuries that Rory Kinnear's character has are identical to the injuries James endured when plummeting to his death. Flashbacks to their final interaction are sprinkled throughout Men and are important in trying to interpret Garland's film. James is the only man who is not played by Rory Kinnear in the film. Instead, he is portrayed by rising British star Paapa Essiedu, who delivers a stunning performance in the limited screen time he has. Essiedu is perhaps best known for his role in the series I May Destroy You. It would be easy for the audience to quickly turn against James as he threatens Harper with suicide for wishing to divorce him. Essiedu, however, portrays the character in a manner that really brings to life his acute pain and confusion without ever minimizing the destructiveness of his actions. This destructive impulse and frustration represents yet another form of mistreatment Harper experiences in the film. Essiedu stated, "There is an echo of him, in a subterranean way, in all the men Harper meets on her trip. And then we come around to see a different version of James in the very last frames of the film." This new version of Essiedu's James at the end of the film is perhaps the most confusing point and definitely warrants significant contemplation. Upon initial viewing, however, an impression can be made that James, and all of the mental horror he inflicted upon Harper, appears as the culmination of generations of evolving forms of sexism and male mistreatment of women.
The film ending on a note of Harper smiling at her friend's arrival could mean a number of things. An optimistic interpretation of this ending is that Harper has finally achieved the healing she so desperately desired (and needed). In finally confronting James and see what he represented, Harper was liberated from the guilt she felt for his death. She understands that his suicide, nor the abuse inflicted by the myriad of men in the film, is her fault.
Whether Men is adored or despised by audiences remains to be seen, but it's indisputable that Garland constructed an intricate, poignant film that necessitates deep reflection after viewing. 
Men is in theaters now.