By Josh Reilly B. & George Bate
The Wizarding World remains one of the most beloved cinematic and literary franchises of all time. Despite this, the growing Fantastic Beasts series has been met with mixed critical and fan reception to say the least. Nonetheless, the series has persisted and four years after the underappreciated Fantastic Beasts: The Crimes of Grindelwald released in theaters, the third installment in the somewhat maligned series makes its debut. Fantastic Beasts: The Secrets of Dumbledore triumphs in positioning Jude Law's titular character in a central position and plummeting fans back into the wonderfully rich Wizard World, but is a step-down from its two predecessors in telling a tame and meandering narrative.
Fantastic Beasts: The Secrets of Dumbledore follows the events of The Crimes of Grindelwald as the muggle and wizarding worlds remain on the precipice of war. Grindelwald, now played by Mads Mikkelsen taking over the role from Johnny Depp, implements a plan to manipulate political machinations and assume total power of wizards and witches. Meanwhile, Jude Law's Albus Dumbledore and Eddie Redmayne's Newt Scamander lead a small team determined to thwart Grindelwald's plan and prevent all-out destruction.
For many, a central shortcoming of The Crimes of Grindelwald was its disjointed narrative and convoluted attempts to add layers and depths to this universe. Despite the film being marred by too many characters and intersecting plot lines, The Crimes of Grindelwald was a better film than many gave it credit for. The question of Credence's parentage surrounded the film and evoked the mysteriousness of the Harry Potter films. Johnny Depp took center stage as Grindelwald and delivered a characteristically unique performance as the series' villain. Amidst all of that, fans saw compelling continuations of its love stories with Newt/Tina and Jacob/Queenie. Unfortunately, many of these underappreciated elements of The Crimes of Grindelwald are missing in this third installment.
Beyond a meandering and choppy opening 20 minutes, The Secrets of Dumbledore introduces an interesting premise for a Wizarding World film. Grindelwald has the ability to see fragments of the future, making it difficult for any kind of formidable resistance to gain a foothold. As such, Dumbledore introduces a sprawling plan that no one character can know much about in order to mislead Grindelwald and keep him in the dark. This places the characters and, in turn, the audience in an intriguing situation. The goal is clear: stop Grindewald's attempts to take over the muggle world. But the plan to achieve that goal isn't. The film never truly explores this premise to the depths it could have. Dan Fogler's character Jacob jokingly remarks that he is confused about what's going on, which is the point here, but the narrative simply doesn't come together as cohesively as it could have. What could have been a film full of mysteries, twists, turns, and reveals is instead a series of scenes disjointedly connected together.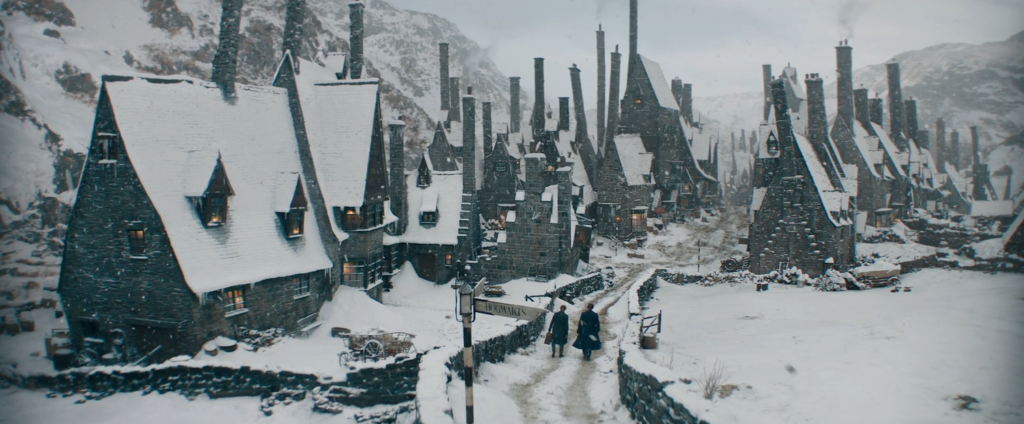 Unlike The Crimes of Grindelwald, The Secrets of Dumbledore makes active attempts to live up to its title of Fantastic Beasts. Without giving anything away, the film's MacGuffin relates to this title, but, ultimately, comes across as rather silly. In addition, although this MacGuffin is introduced very early in the film, it isn't until a significant portion through the runtime that the importance of this plot element is emphasized and given any explanation. When this explanation finally arrives, it comes as a surprise, not for being an innovative twist, but for being so uneventful.
Narratively, The Secrets of Dumbledore also struggles in regards to the way it tackles its predecessors' romantic arcs. Queenie's unexpected (and, to many, unfounded) allegiance to Grindelwald in the series' second film receives little attention in this new installment. The same can be said for the relationship between Newt and Tina, with the latter playing a startlingly small role. These romantic arcs deliver the first and second film's emotions so effectively, which makes their relative absence in this third film so sorely missed. 
Akin to its predecessors, The Secrets of Dumbledore makes a number of attempts to infuse its narrative with political and social commentary, which varies in terms of its effectiveness. At its best, this comes across as poignant, if not rather overt, commentary, whereas, at its worst, it comes across as unintentionally funny. Situating this series prior to World War II, and having Grindelwald as the antagonist, opens the doors to many avenues for a deeper exploration of themes such as nationalism, racism, and political manipulation. The Secrets of Dumbledore's attempts to tackle these themes, with particular reference to the erroneous voting controversies and unethical political maneuvers seen in the modern era, are admirable. It's just a shame they aren't tackled with more subtlety or nuance.
Despite narrative issues, The Secrets of Dumbledore excels in a number of areas. Jude Law returns as Albus Dumbledore, and brings more of the wonderful charm and warmth he did to the character in his minor role in The Crimes of Grindelwald. Thankfully, Law is given much more to do here and portrays the complexities of the character so well. He captures the genuine kindness that defines the character, but also infuses his performance with the vulnerabilities and flaws that make Dumbledore such a compelling character. Accompanying Dumbledore in his battle against Grindelwald is Newt Scamander. Similar to Law, Redmayne brings a certain charm to the role that feels distinct and refreshing. In the film's predecessor, Dumbledore remarks to Newt, "Do you know why I admire you, Newt? More, perhaps, than any man I know? You don't seek power or popularity. You simply ask, is the thing right in itself?" Redmayne excellently imbues the sentiment of this quote in his performance and, once again, makes for a very likable and empathic lead to get behind. Another highlight of the film comes from Dan Fogler, whose role as Jacob Kowalski has been key to the Fantastic Beasts films so far in delivering a type of humor previously unseen in the Wizarding World. Jacob plays a prominent role in the film and provides a nice juxtaposition to Grindelwald's claims about the inferiority of muggles. Series newcomer Jessica Williams as Professor Eulalie Hicks assumes the role one would have expected Tina to fulfill, and delivers a serviceable performance that evokes female leads from 1920s and 1930s films. Alison Sudol's Queenie and William Nadylam's Kama (who was a highlight in The Crimes of Grindelwald) play disappointingly minor roles in the film, while Callum Turner as Theseus does his best with the material at his disposal.
Much has been made of the removal of Johnny Depp and the casting of Mads Mikkelsen as Grindelwald. Mikkelsen is used to playing villains at this point, as evidenced by his roles in projects such as Casino Royale, Doctor Strange, The Three Musketeers, and Hannibal. And, as Grindelwald, Mikkelsen is…just fine. He is threatening and delivers his lines menacingly, but there is little that particularly stands out about his performance. This contrasts Depp's strange and unique performance as the character in the series' second film, as Mikkelsen is simply a bad guy doing bad things in this movie. 
Beyond performances, it will always be breathtaking to be reintroduced to the world of Harry Potter. When the cues of John Williams' iconic compositions swell and the halls of Hogwarts are seen again, it's hard to not get emotional and think back to those beautiful stories and characters. Eagle-eyed fans will notice a wealth of easter eggs and references sprinkled throughout the film, which simply adds to this immersive, lived-in universe. 
Verdict: 6/10
Fantastic Beasts: The Secrets of Dumbledore is an unfortunate step-down from its underappreciated predecessors. An intriguing premise and warm and charming performances from Jude Law and Eddie Redmayne are bogged down by a meandering narrative and unusual exclusion of the previous films' romantic threads. Nonetheless, being immersed in the Wizarding World again is welcoming and nostalgic to say the least and there is enough here in this third installment to satisfy fans and more casual viewers alike.
Images courtesy of Warner Bros.