By George Bate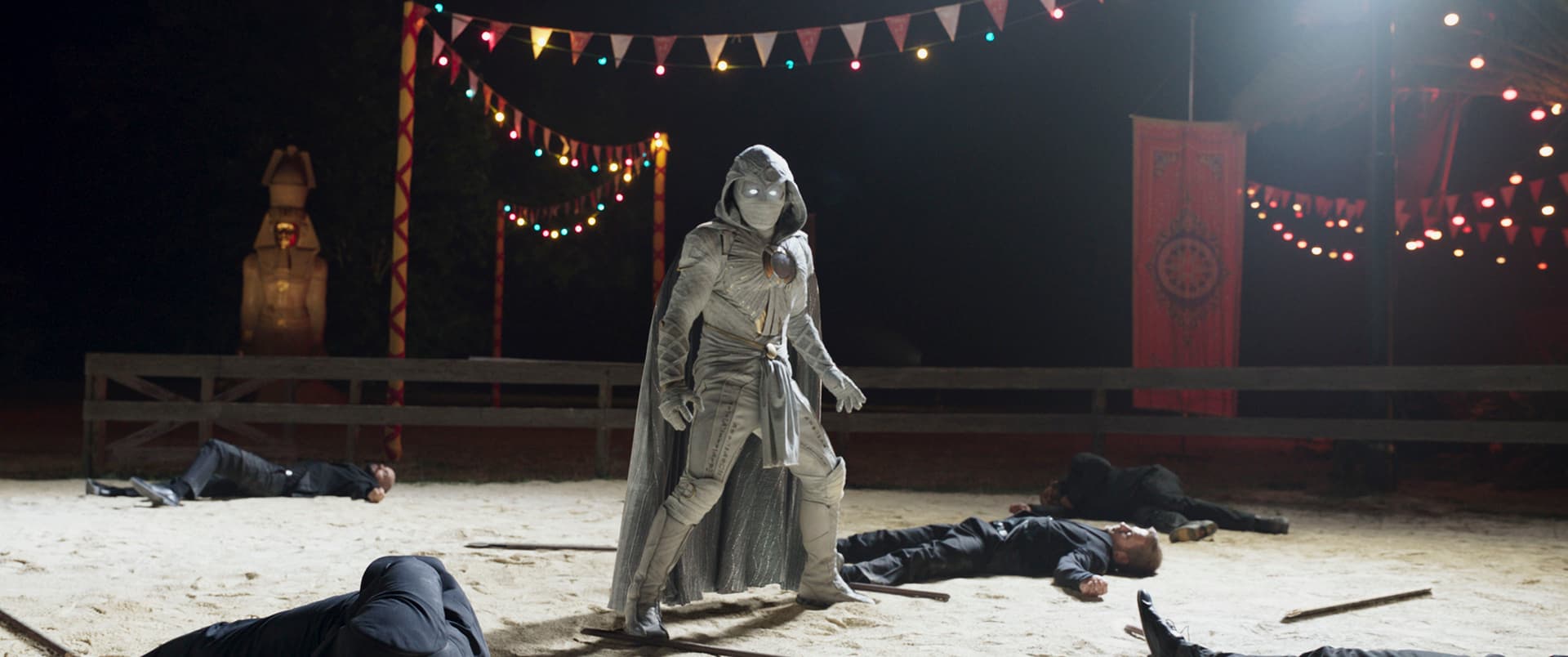 WARNING: This review contains spoilers for Moon Knight – Episode 3
The adventures of the MCU's latest caped crusading hero, Moon Knight, continue this week in an episode that delves deeper into the Egyptian mythology of the character and takes place entirely in Egypt. Episode 3, titled The Friendly Type, picks up where episode 2 left off with Spector / Grant (played by Oscar Isaac) waking up in Egypt to track down Harrow (played by Ethan Hawke) and stop him from resurrecting the Egyptian goddess Ammit. 
At this point in the series, Moon Knight has settled into a more comfortable and pedestrian narrative. This is a departure from the frantic pilot that capitalized off of the show's identity amnesia premise and a brilliantly over-the-top performance from Oscar Isaac. Whereas the initial episode leaned into The Bourne Identity and Memento influences, episode 3 is clearly inspired by globe-trotting action-adventures like Raiders of the Lost Ark and National Treasure. This makes for a consistently entertaining and action-packed episode, albeit one that feels a little standard.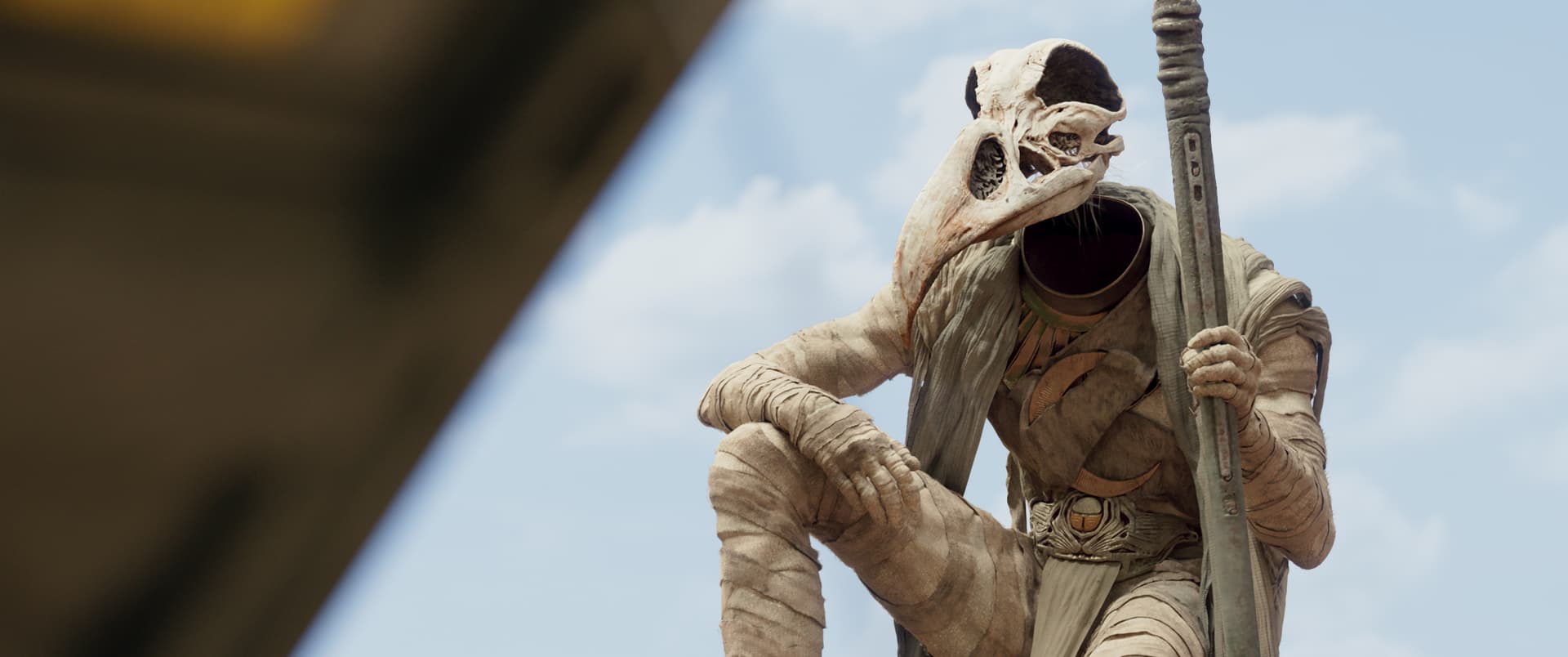 Part of the slight mundanity of this latest episode is Marc Spector's growing presence in the show. Spector is by no means a dull character, but it's hard not to yearn for more of Isaac's zany performance as Steven Grant. Spector's relationship with Layla (played by May Calamawy) is given more attention, although the series still struggles from placing the viewer in the midst of this story with sparse explanation. Moon Knight adopts a different structure than MCU films like Ant Man or Captain America: The First Avenger in not telling an origin story. All of the elements of the character are already established before the first frame of episode one. While this makes for an intriguing departure from the majority of superhero tales, it means that the viewer is playing catch up as the story progresses. Spector and Layla, for instance, have a rich history and there are clearly more reveals to come in regards to that history. And yet, even with great performances from Isaac and Calamawy, it's hard not to feel a bit of distance from these characters. Moving into episode three of six and far away from the purposeful disorientation of the series' pilot, Moon Knight is crying out for some flashbacks or more heavy dialogue sequences to fill in some of the gaps about these characters.
That being said, The Friendly Type certainly takes steps forward in regards to diving into the show's Egyptian mythology moreso. The episode sees Khonshu call for a meeting with various Gods' avatars inside the Great Pyramid of GIza. The entire sequence offers an interesting peek behind the curtains of how these Gods operate. Things get even more interesting when Harrow is brought into the mix to defend himself against Khonshu's accusations. This part was a bit silly and required a leap of faith of sorts. Surely these all mighty Gods can see through Harrow's lies and are able to uncover his motives to resurrect Ammit? While it keeps the story alive, the Gods' ignorance comes across as unfounded.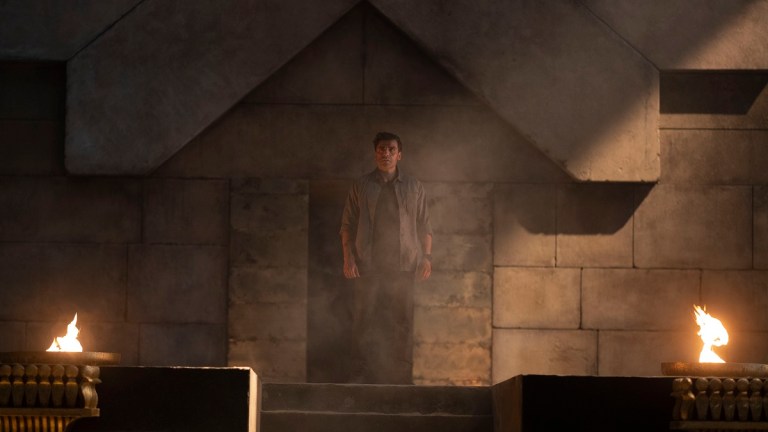 After failing to convince the Gods of Harrow's plan, Spector and Layla meet with Anton Mogart (played by the late Gaspard Ulliel), an antiquities collector and an acquaintance of Layla who owns a tomb that can help them find where Ammit's tomb is. This sequence leads to the episode's best action sequence as Moon Knight's brutality is on full display. It also provides fun opportunities to see Spector and Grant's back and forth and how Grant is indeed useful in this plan given his extensive knowledge of Ancient Egyptian history.
The episode concludes with the crew fleeing into the desert, where they assemble an ancient star map to find Ammit's tomb. As the map is over two thousand years old, Khonshu resorts to using his powers to turn back the night's sky so that Spector / Grant and Layla can uncover the location of Ammit's tomb. This proves to be the last straw for Khonshu in the eyes of his fellow Gods as he is imprisoned.
This leaves a number of intriguing points to explore moving forward. Grant and Spector are left fairly powerless now without Khonshu and will have to try to stop Harrow without the God's assistance. Also, there are brief glimpses at what may be a secret, third personality accompanying Grant and Spector. At point one, Grant awakens from a blackout to discover several thugs are killed. Although Grant blames Spector, it doesn't appear that Spector was responsible for this level of violence.
Verdict: 7.5/10
Moon Knight's third episode fails to address some of its predecessor's shortcomings in terms of exposition, but is an entertaining adventure nonetheless. Leaning more heavily into action-adventure influences like Raiders of the Lost Ark and National Treasure, The Friendly Type expands upon the show's Egyptian mythology while the characters search for the location of Ammit's tomb. The episode features various points of intrigue, including the possibility of a third personality, that will be interesting to see explored in next week's installment.