By George Bate and Josh Reilly B.
After the epic, high-stakes events of the Marvel Cinematic Universe's Infinity Saga concluded, Kevin Feige and company were left in an accomplished, yet difficult position: How do we top what we've already done? Where do we go from here? With the likes of Loki and Spider-Man: No Way Home, the answer to those questions is to crack Marvel's multiverse wide open and explore all of the storytelling opportunities that affords the filmmakers. The newest MCU film, Doctor Strange in the Multiverse of Madness, takes this idea of multiversal exploration and twists it, turns it, spins it on its head, and examines it from every available angle in what culminates in a fast-paced and stylized adventure that honors Marvel's past while establishing the groundwork for what's to come.
Doctor Strange in the Multiverse of Madness follows Benedict Cumberbatch's Sorcerer Supreme following the events of Spider-Man: No Way Home in a story that brings him into contact with Wanda Maximoff, America Chavez, and even the Illuminati. After a teenager with the ability to travel the multiverse breaks into his world, Stephen Strange starts an investigation leads him on an adventure where he faces alternate versions of himself and his friend-turned-foe Mordo.
When initially announced, the Doctor Strange sequel was billed as the MCU's first venture into the horror genre, a concept that became all the more exciting with the addition of horror movie icon Sam Raimi. Thankfully, Multiverse of Madness embraces the horror genre in a manner only a filmmaker like Raimi could accomplish. Multiverse of Madness truly feels like a no holds barred Sam Raimi film in the best possible way. Quick edits, jump scares, stylized shots, and horrifying creatures fill the screen from beginning to end. Some sequences, especially those in the film's latter act, are brilliantly reminiscent of Raimi's Drag Me to Hell and Evil Dead II. A particular highlight involves a battle between two Doctor Stranges trading blows using musical tones. Bolstered by impressive cinematography from John Mathieson, Multiverse of Madness has a gothic horror feel to it that feels unique relative to previous MCU efforts. The movie certainly moves into the horror genre more so than other MCU films, but never feels too jarring or disparate from its predecessors. This intersection of a Sam Raimi horror film and a Sam Raimi superhero film really comes to life with the score of his longtime collaborator Danny Elfman. Elfman's score shifts in tone and style as the movie progresses through the multiverse. At times, Elfman uses electric guitar cues to convey the craziness of a situation, whereas other times he leans into more comical themes. Elfman also incorporates cues from previous Marvel films in a manner nothing short of spectacular.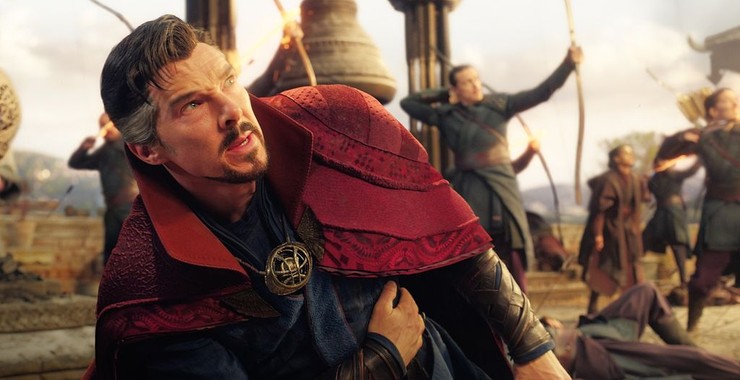 Doctor Strange in the Multiverse of Madness comes from a script written by Michael Waldron, who also penned the Loki series on Disney+. Waldron's deft hand at introducing potentially overwhelming concepts like the multiverse comes in handy once again here. In less capable hands, the film could go awry in getting lost with convoluted exposition and plot devices, but Multiverse of Madness' script is razor sharp. At times, especially in relation to the driving force behind Wanda's actions in the film, it is clear that some elements were changed behind the scenes (which corroborates with the reports of reshoots in late 2021). But this does little to detract from what is a high-stakes, well told story.
Interestingly, the story is as much a sequel to 2016's Doctor Strange as it is WandaVision. Regarding the former, attempts to connect this sequel to events and characters of the original film, such as Rachel McAdams' Christine Palmer and Michael Stulhbarg's Dr. West, fall somewhat flat. Perhaps, this is because it's been quite a few years and quite a few adventures since audiences saw Doctor Strange interact with these characters, but their incorporation into the story adds little to the movie. Despite surprisingly sizable screen time, McAdams' character is somewhat shoehorned into the narrative and the attempts to expand upon Christine's romance with Stephen don't really work.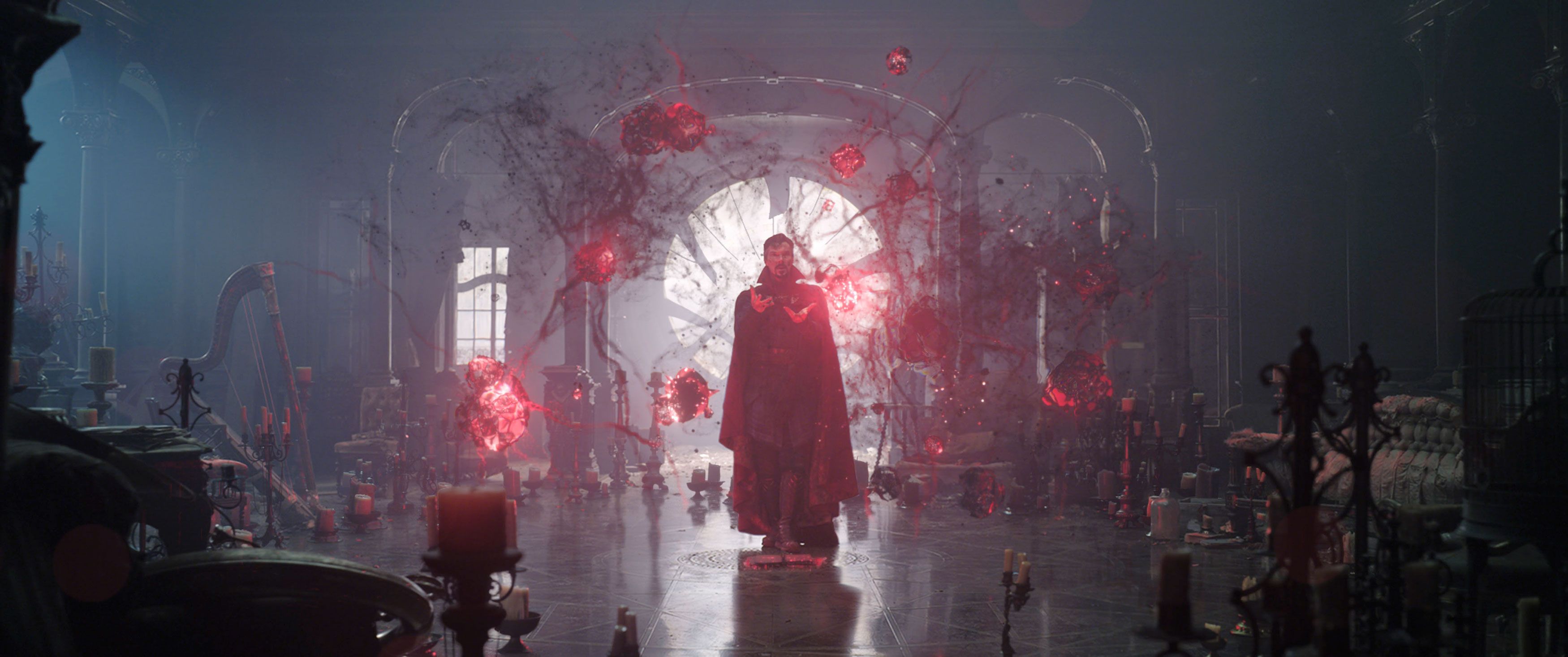 Although there is a multiverse of characters at play in the film, Benedict Cumberbatch more than capably leads the pack as Doctor Strange. Following appearances as a side character in Thor: Ragnarok, Avengers: Infinity War, Avengers: Endgame, and Spider-Man: No Way Home, Cumberbatch finally returns front and center and commands the screen from beginning to end. Even many of detractors of the 2016 film must admit that Cumberbatch is a perfect choice to bring the Sorcerer Supreme to the big screen, and his performance in Multiverse of Madness continues to emphasize this. Whereas the first Doctor Strange film saw the character grow from a narcissistic, self-centered surgeon into a disciplined and selfless figure, the newest film inverses this arc in some ways, with Strange's assuredness impacted by a series of revelations with galaxy-wide implications. This makes for a different sort of performance from Cumberbatch and one that can be applauded in not retreading familiar territory, but, rather, exploring new and more vulnerable facets of the character.
Supporting Cumberbatch are Elizabeth Olsen and Xochitl Gomez, who played Wanda Maximoff and America Chavez respectively. This marks the first appearance of Olsen's character following the brilliant WandaVision series on Disney+. As such, this is the first time Wanda has been given such attention in a theatrical effort following significant, yet ultimately minor side roles in films like Avengers: Age of Ultron and Captain America: Civil War. It's difficult to talk much about Olsen's performance or character without getting into spoilers. What can be said is that this is a decidedly different and commanding performance from Olsen. She plays an integral role in the film and Olsen is simply fantastic in the role. Meanwhile, Gomez's America Chavez similarly plays a key part in the film. For much of the film, Chavez is more of a plot device than a character. Although, by the end of the film, Chavez has been given enough time and attention to make her a bit more than just a driving force behind the plot.
It goes without saying, but Multiverse of Madness will prove infinitely more enjoyable if viewers are able to avoid leaks and spoilers beforehand. This is not a film that is dependent on surprises and cameo appearances, but there are certainly twists and turns that will benefit from audiences' sealed lips. And, finally, Multiverse of Madness sports one of the most hilarious post-credits scenes to date.
Verdict: 8/10
Doctor Strange in the Multiverse of Madness is equal parts Sam Raimi horror film and Sam Raimi superhero film in the best possible way. The newest MCU film moves at a break-neck pace to tell a high-stakes, multiverse-hopping with plenty of Easter eggs, references, and surprises to please Marvel fans. Benedict Cumberbatch and Elizabeth Olsen excel in showcasing different sides to their established characters, while Xochitl Gomez is a welcomed addition to the MCU despite being used more so as a plot device. Attempts to connect to 2016's Doctor Strange fall flat, but the movie intelligently builds upon themes established in WandaVision. Without a doubt, Doctor Strange in the Multiverse of Madness is another win for the MCU.